NEW UPGRADED ELECTRIC FLODING BIKE--PX5   
PX5 Technical specifications
| | |
| --- | --- |
| E-BIKE MODE | PX5 Folding Electric Fat Bike |
| Frame | 20 inch Aluminum Alloy Frame |
| Cruise Control | YES |
| Wheels/Tires | 20" 4.0 Fat Tires |
| Front Suspension | Alloy Lock-Out Suspension |
| Brake | Dual Mechnical Disc Brakes |
| Flywheel | 7-speed Freewheel |
| Display | LCD Waterproof Intelligent Display |
| Battery | 48V / 10.4AH Samsung Lithium Battery Cells |
| Mileage | 35-45mi(Electric) / 50-60mi(PAS) |
| Charging Time | 5-6 hours |
| Headlight | 5W Bright Front Light      |
 High-quality Electric Floding Bike
PASELEC PX5 is a high-quality Electric Floding Bike that was designed with the utmost care and attention to detail, comes with 500w Motor, a 10.4ah battery, 7-Speed.The motor and battery is seamlessly integrated into the frame ,achieve fully closed waterproof and dustproof IP5 level. Besides being very powerful, the motor features a progressive Smart Assist mode, which dynamically adjusts the support level to suit the riding situation and thereby making it unnecessary to shift gears in flat terrain. We tested the PX5 around our headquarters and put it through its paces on dry as well as very rainy days, PX5 never blocks you, whether it's off-road hills, jungle trails or city roads, snow and beaches.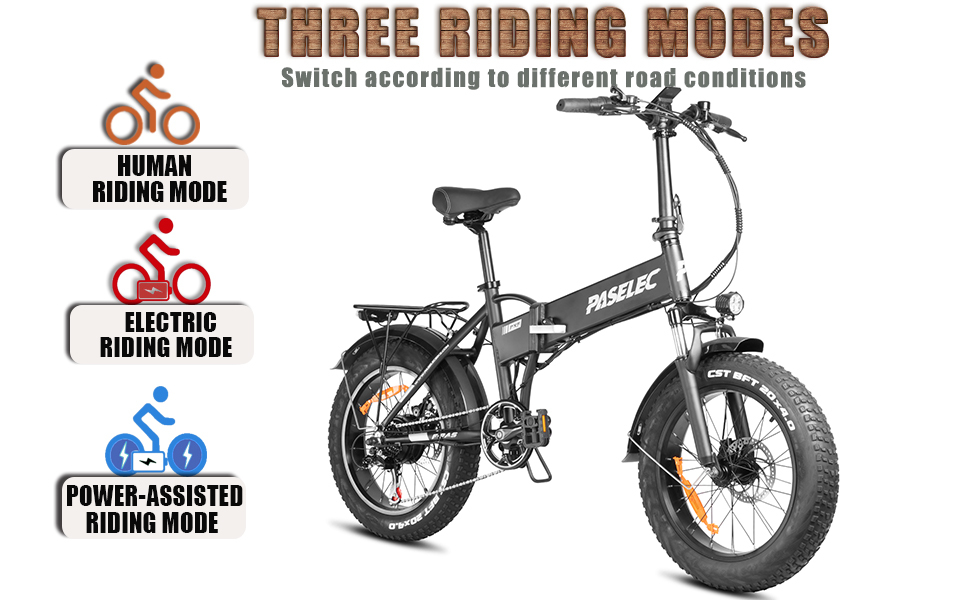 PX5 THREE RIDING MODES :
Turn off the power or 0 gear ,enjoy the fun of natural cycling sports !
Turn on the power , supply level 1-5 twisting the turn to pure electric riding
POWER-ASSISTED RIDING MODE
The sensor senses the pedaling force,and the motor intervenes in the corresponding power-assisted riding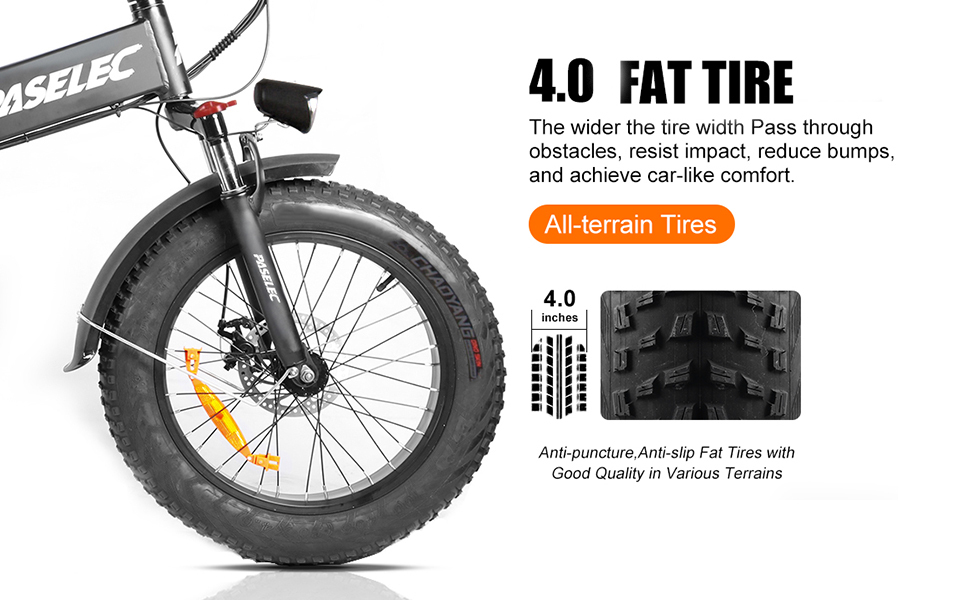 All-terrain Tires electric bike :

5 layers tires
Anti-puncture
20"x4.0" fat tires
Absorb ground vibration and enhance comfort
Adapt to all terrains, beach/snow/wild/city, omnipotent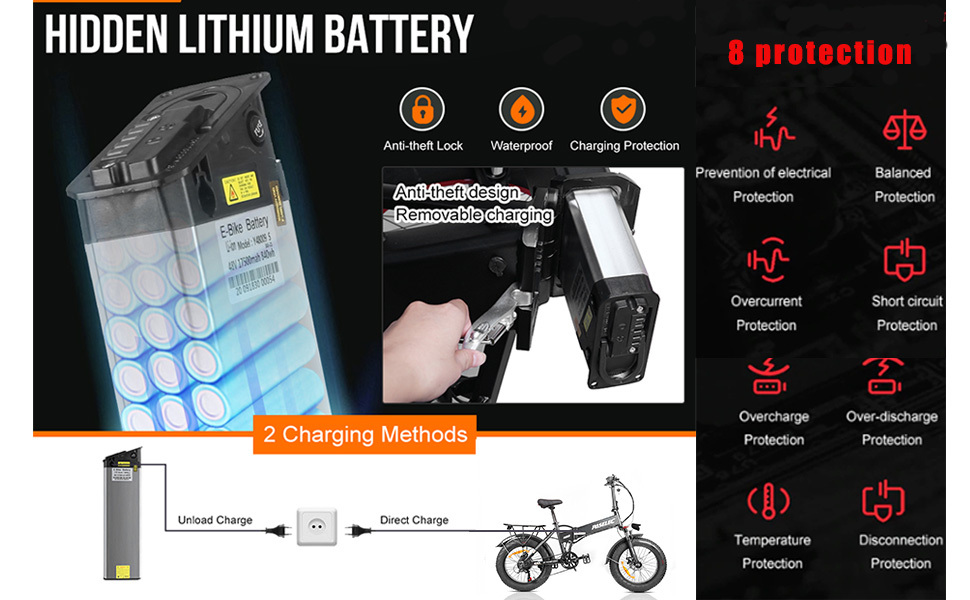 HIDDEN LITHIUN BATTERY --Anti-theft Waterproof Multi-protection,10.4Ah LITHIUM BATTERY :
All-round protection of lithium battery safety to provide rational management of lithium batteries to protect the battery safety and long service life
Waterproof
Unload charge and Direct charge         

COSTS & DESTINATIONS
Currently, we only provide FREE shipping to the lower 48 states in the US. And we DO NOT ship to PO BOXES or APO.
SHIPPING TIME
In-stock orders typically ship the next business day, unless otherwise noted on the product page. 
For in-stock orders, we'll provide tracking number within 4 business days. A shipping confirmation email will be sent to your email once the order has shipped. The carrier is UPS/FedEx. It may take 3-10 days for your shipment to be scanned by UPS/FedEx. For any third-party shipping, we cannot provide any additional shipping information or documentation. Any delivery dates provided by Paselec  are estimates.
For pre-orders/backorders, please refer to the shipping date on the product page.
SHIPPING CHANGES & Order Cancellation
Before shipping
Order Cancellation: If you cancel orders that haven't entered the shipping process yet, 5% of the ebike cost will be charged as a processing fee.
Change of Address: No charge fee.
Replacements and exchanges: No charge fee.
After shipping
Order Cancellation: If your order is shipped and cannot be modified, you may reject the package and 10% of the ebike cost will be charged as a cancellation fee.
Change of Address: If you successfully change your address, $20 will be charged as a processing fee. If you fail to change your address, you may refuse the package and 10% of the ebike cost will be charged as a reshipping fee.
Replacements and exchanges: If you successfully exchange the item, $20 will be charged as a processing fee. If you fail to change, you may reject the package and 10% of the ebike cost will be charged as a reshipping fee.
ORDER TRACKING
You can track your order and shipping & handling information on your account if you have registered one on www.paselec-ebike.com. If you haven't registered on our site, you can also track your order here with your order number. For more shipping information, send an email to service@paselecbike.com. We will get back to you in 24 hours.
If you haven't received the bike, however, the logistics order shows the goods have been signed. In this situation, please contact us in 3 business days. Otherwise, after 3 working days, we will no longer deal with this issue, and customers need to contact the corresponding logistics company to solve this issue.
Great bike lots of power and good value
PROS : Bike was shipped quickly and was easy to put together. Very nice quality and handles well. Motor is strong and is fast. Value compared to similar ebikes is very good. CONS: Some transport scratches on paint job in various locations and customer support was of no help when I related this and sent them photos. The black ribbed rubber cover that is supposed to cover the seat post is defective, does not fully cover the post and I can see the white plastic insert in the seat post attachment- making it look weird with white on black and part of the post can be seen. The printed manual does not tell u much about anything with this bike . I've learned more on you tube about it. ……. Overall a good riding bike .
Awesome ebike
It awesome commute bike and people will ask you about the bike it looks good and it a head Turner!!!...it easy to assemble just unfolded and bike is ready..
Paselec PX5 | Fat Tire Folding Ebike
Great e-bike
We have two of these bikes and love them. The bike is a little heavy for me (65 yr old female) but it is manageable and very rugged. The customer service gets 5 stars too
An EXCELLENT E-Bike that you can FUN with!
I received my Paselec e-bike recently 11/26/2021 and I Love it!
The 48 volt bike is made of high quality materials and has a programmable input system that drives the 500 watt motor! This e-bike flies down the road! Excellent customer service too! Mr. Hanks is there to help with any problems you might have which is another reason to choose this excellent product! You won't be sorry I can attest to that. I did not receive any perks for writing this review
Payment & Security
Your payment information is processed securely. We do not store credit card details nor have access to your credit card information.